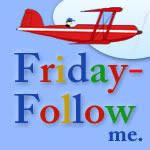 Hello there fellow Friday Follow blog hoppers!
Glad you stopped in!
I'm Evonne, aka Jules
Welcome to Jules Out Loud

Contrary to what it looks like, I am not a newbie blogger. I have another blog that is more family centered. I've been blogging over there for close to a year now. In the past few months I've realized that I needed another space. One just for me. Since I have family who read that blog, some more than I realized, there are topics that I don't feel comfortable "talking" about over there. I don't cuss like a sailor or anything, but I do try to watch my language over there.
Jules Out Loud is my personal space where I can say whatever the hell I want. I sometimes talk about my kids on here, but I also try to use this space to focus more on who I am
outside of that mom role
. I also talk about my marriage. I have a great marriage, but sometimes there are things that
bother me
. Sometimes I just
bitch
discuss things that
intrigue me
.
So grab a drink and have a look around. I personally
need
like coffee in the mornings, Pepsi in the afternoon, and if it's been a tough day, some Captain and Coke in the evening. But you can grab whatever works for you!
Thanks for stopping by!
I'm going to be crazy busy this weekend, but I will visit your blogs and respond to any comments (assuming you're not a no-reply... that shit drives me bat shit crazy!).
Have a safe and happy holiday!