Good morning and happy Friday! I am so glad it's Friday. Not only is it the end of the week, which means I get to sleep in the next 2 days, but it appears we are finally getting a break from the heat. I'm not a fan of things breaking, except when it comes to 95+ degree weather!
We have been pummeled with this hot and humid weather all week! We definitely got our money's worth out of our pool passe this week, but when we weren't in the pool, I was sweating in places no one should. Quite frankly, I'm over it! I'll take summer any day over winter, but damn!!
So now that I've shared possibly a little TMI about my bodily functions, I'd like to welcome any Friday Followers who decide to grace me with their presence.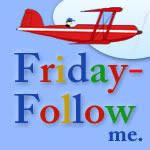 Jules Out Loud is my personal blog where I don't have to worry about what I say. I do have a family friendly blog,
All You Need is Love
, but I would feel guilty when I posted things over there that didn't directly relate to my kids. There's also a few subjects I don't feel comfortable talking about over there due to family who sometimes stopped in.
Feel free to have a look-see around here and if you decide to stay, let me know so I can hop over and visit you as well.
Thanks for stopping by!