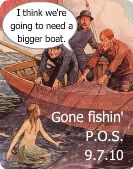 I just came across this and it's just awesome! I may be a little late, but the meaning behind this button is so very true!
It does not stand for piece of shit, although it could apply. To read the whole meaning behind, just click the button.
I'm not going to apologize for my lack of blogging. It's not that I don't want to blog, it's just that I've been so damn busy lately! Haven't we all? The one thing I've noticed is that when I take a break in blogging, the spammers seem to hit me.
These anonymous spammers have been hitting my other blog. Blogger has rolled out some spam filter crap that's supposedly in effect on my other blog,
All You Need is Love
, but it hasn't hit this blog yet. My other blog is family friendly and let me tell you, these anon peeps are
not
leaving family friendly stuff over there!
These comments are not always being moderated and they're not always being caught by the "filter". Fuck you Blogger! If you think that "Anonymous" = Spam, than you need to catch it all!
For example, asshole spammer #1 has asked me quite a few times to exchange links. These comments are being thrown into the spam inbox.
Not that I would exchange links with some anon person anyway, but there's nowhere to go to exchange a link.
What is not being caught is the comment from asshole spammer #2, which would be this lovely piece of work...
huge black blowjob
woman masturbation videos
video clips mature women
balloon babes
femdom ballbusting video
Followed by a bunch of links, which I am not copying and pasting. If you're into that kind of stuff, Google it. By the way, does anyone know exactly what "femdom ballbusting" is? Or do I not want to know?!
Doesn't being spammed like this mean you're on your way to hitting the big time? I guess I should start paying attention to the drama that seems to follow!
Hopefully my Grandma's computer is still fucked up beyond repair and she can't read my other blog. Maybe she missed that before I could delete it!