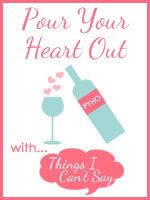 For the past few PYHOs,
Shell
has talked about judging others, something I know I am guilty of. I think everyone is guilty of this and if you say you don't judge, you're lying. The only difference is, some are respectful enough to keep their thoughts to themselves.
I am not an expert, nor do I claim to know all of the answers to much of anything, but I do know what I believe. I believe that many of us judge in order to make ourselves feel better about our shortcomings.
I started this blog so I would have a place away from family where I could write about my own fears and shortcomings. I don't want to talk about my kids over here, but I still do. My kids are my safety net. I may feel alone in the moment, but I know other parents have had those days where all you do is scream because your children refuse to listen.
My kids are not the only part of who I am. I have fears and doubts. I have had experiences that still haunt me to this day. I have my own beliefs that I do not express when they may differ from yours. I could write about all of that here. Yet I don't.
I am afraid of being judged.
If I tell you my kids have had cookies for dinner, will you tell me I am a bad parent?
If I tell you some days I would rather crawl back into bed than play with my kids, will you tell me I'm just trying to get some attention?
If I tell you about the night I almost lost my husband, will you chastise me for not trying to prevent it?
If I tell you I'm not sure if there is a God, will you turn and walk away, or preach to me to prove your beliefs?
If I tell you 2 men or 2 women should be granted the same rights as me and my husband, will you shake your head in disgust and tell me how wrong that lifestyle is?
I may mention these things, but fear holds me back from taking it further. I have never received a negative comment, but I fear if I write more about my feelings and beliefs, I will have one. Or many. Or maybe none at all - do you not care or did I scare you away?
I constantly worry about myself and my family. I stand firm in what I believe, except for religion.
I also wear my heart on my sleeve.