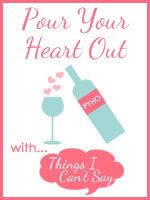 Because I feel like something should go here before I jump right into what was a difficult post for me to write.....
From
Shell
- just a brief reminder that everyone linking is pouring their hearts out and we should all be respectful in our comments. ;)
Anxiety is a state of uneasiness or tension caused by apprehension of possible future misfortune, danger, etc; worry (via
dictionary.com
)
Anxiety is using a new recipe for dinner. Will they eat it? Is the recipe a keeper?
Anxiety is going out in public wearing clothes that fit, not baggy clothes you can hide in.
Anxiety is sending your accident prone son outside to play. It's only a matter of time before his bumps and bruises become true emergencies.
Anxiety is laying in bed listening to your daughter cough well into the night. Most illnesses trigger her asthma. It has been a long time since she has been admitted to the hospital. Will that other shoe finally drop?
Anxiety is getting in the car after the first big snow and hoping you can make it back home.
Anxiety is getting in the car to pick my husband up from work, knowing there will be traffic along the way. Will the cars behind me see that I am stopped or will I get hit again?
Anxiety is wondering where another child will fit. The husband has stated our two children are enough, yet he makes no effort to prevent a third from entering our lives. I am also partly to blame.
Anxiety is the lump in my throat, the rocks in my stomach, and the lack of words to express what I feel deep down inside.
Anxiety is thinking about what tomorrow will bring.
Anxiety is clicking publish.